Heritage Days
Back to Batoche
"Back to Batoche" is an annual celebration held the third Thursday to Sunday in July in Batoche, Sask. It attracts thousands of visitors from across the Métis Nation Homeland and beyond who gather at Batoche to visit, celebrate their heritage and honour those Métis who died during the 1885 Northwest Resistance. This event is the modern version of the old Métis holiday, St. Joseph's Day (July 24), which was first named as a Métis national day in 1884. The historical St. Joseph's Day, the celebration honouring the patron saint of the Métis, involved a mass and a country fair with music and dancing. Men participated in horse racing, shooting and arm-wrestling contests, while women displayed their embroidery, quilting, rug hooking, sash weaving, beadwork and crocheting. St. Joseph's Day was celebrated at Batoche until the 1930s.
On June 26-28, 1971, the modern Back to Batoche celebration was inaugurated. Costing $30,000, the gathering was actually a Métis Society of Saskatchewan convention, with July 25 being set aside as a "camping day." The Canadian Army supplied tents and ration kits, and policing was provided by "special Native police" and the Rosthern RCMP. The event was labelled as a political and cultural "rebirth" of the Métis Nation and included powwow dancing, racing, sports events, turkey shoots, bannock baking, tent pitching, fiddling and Métis dancing contests.
During the 1972 gathering, over 12,000 people attended, and they enjoyed watching and participating in a beauty contest, Métis dancing, a powwow, a greased pole event, a greased pig chase, bannock baking, jigging, fiddling, tent pitching, hand games, canoe racing, ball tournaments, bingos and saddle horse racing. In 1977, there was no gathering at Batoche because the Association of Métis and Non-Status Indians of Saskatchewan and the government could not agree to a funding arrangement. In 1978, 7,000 people attended Back to Batoche, which demonstrated that government interference couldn't dampen the Métis' and non-status Indians' spirit and resolve to fight for their rights.
From 1981 until 1985, the event was officially called "Métis Heritage Days" since "Back to Batoche" was being saved for the upcoming 100th anniversary to be held in 1985. With the week-long 100th anniversary celebrations in 1985, directed by the Batoche Centenary Corporation, the event became known again as "Back to Batoche" days. In 1986, political events eventually led to a change in the celebration as the split between the Métis and non-status Indians in AMNSIS intensified at that year's Back to Batoche. Soon, the celebration would become a Métis-only event run by the newly formed Métis Society of Saskatchewan (1988) and its eventual successor, the Métis Nation–Saskatchewan (2000). The Métis National Council also started to take a more prominent role at Back to Batoche, holding its National Assembly during the 1989 celebrations. By the mid-1990s, Back to Batoche would always be held during the third week of July — a tradition that continues to this day. In 2010, Back to Batoche drew in over 75,000 people during this special "Year of the Métis Nation."
While the original purpose and some of the activities have changed over the years, coming together to celebrate the Métis' vibrant culture and rich history has always been consistent.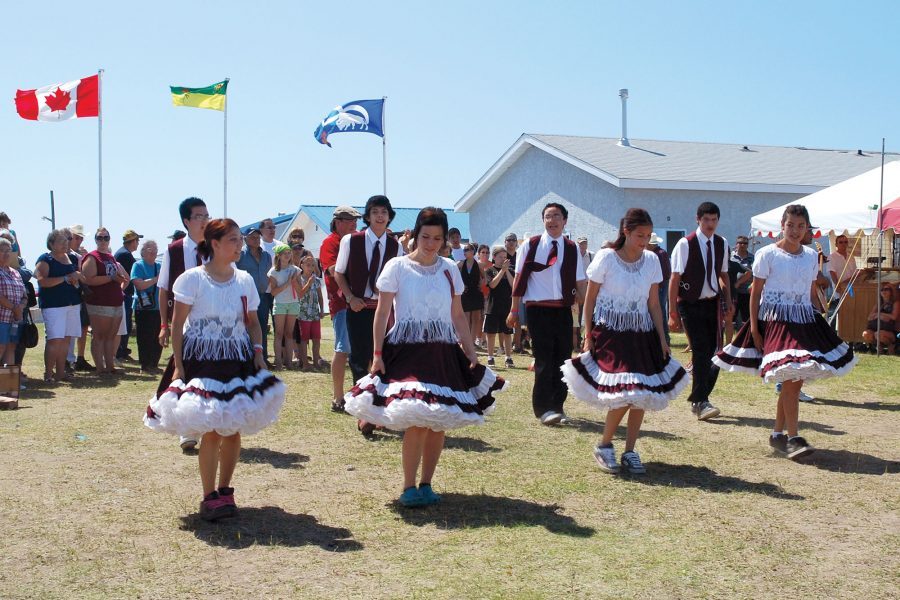 Métis Christmas
The Métis have long placed a great emphasis on maintaining strong relationships among families, extended families and communities, particularly when work was hard and the future uncertain. Nowhere were these bonds of kinship and friendship better renewed than during Christmas (Li Krismiss/Li Zhoor di Nowel) and New Year's (Li Zhoor di Laan) celebrations. While Christmas Day was largely a religious event for most Métis communities in the late 19th and early 20th centuries, it was also a festive occasion. For instance, in the 1880s and 1890s at Batoche, from Christmas to Epiphany/All Kings' Day (Li Zhoor dii Roi) (Jan. 6), Métis families held ballroom dances by "oil light" (bals à l'huile). A Prince Albert newspaper reported in 1889, "at Batoche, during the holidays, balls are the order of the day. Two were held last night, one at Pilon's and the other at D(aniel) Charette's and youngsters had all the chances they wanted of shaking themselves up."
Métis Elders have recounted that families spent Christmas Eve attending midnight mass, occasionally singing hymns in Cree, French or Michif. However, the biggest celebration during the holiday season was reserved for New Year's Day. As one Batoche Elder told historian Diane Payment, "On Christmas Eve, we went to midnight mass, and when we got home, we ate a little, drank some tea and went to bed. The presents were for New Year's Day."
Early on the morning of Christmas Day, families travelled by horse and sleigh to loved ones' homes and stayed until late in the evening. Prior to this gathering, mothers and daughters prepared food for days to ensure everyone would be well fed. Christmas and New Year's fare included fried doughnut-like bannock (lii bayng), meatballs (lii boolet), stew (rababou), chokecherries or saskatoon berries served with cream and sugar, puddings, pemmican and wild game, as well as tea and homemade beer or wine. Unlike the commercialism that permeates our holiday season today, traditional Métis Christmas celebrations were modest. One Elder recounts, "We did not have Christmas gifts, only candies, apples, and pastry."
While Christmas was a religious event for the Métis, New Year's was a grand social celebration. It was not uncommon for several households in a community to hold a feast and dance on different nights so that people could visit and celebrate for many evenings in succession around New Year's Day. In the 1860s at Prairie-Ronde, in what is now the area around Dundurn, Sask., a New Year's celebration lasted 10 days! Manitoba Métis Elder Joe Venne had this to say about the Métis' festive spirit during the holiday season: "When it came to the holidays, Christmas and New Year's, we used to go for two, three weeks at a time, dancing every night, partying every night. Other people didn't have that style." Depending on the community, some households would take turns holding a feast and dancing, allowing people to visit a different house each night.
On Christmas Eve, we went to midnight mass, and when we got home, we ate a little, drank some tea and went to bed.
Children were an integral part of New Year's celebrations. On New Year's Eve, children received presents from their parents, usually small gifts of food. One Elder related that "on New Year's Eve, children hung stockings at the foot of their bed and would wake up to find all sorts of treats." After receiving their presents on the morning of New Year's Day, children thanked and blessed their parents, and families hugged and kissed one another. Fathers also blessed their children on this day.
New Year's Day was usually held at the grandparents' home and was a special time for families, as cousins, aunts and uncles attended. It was an occasion for social drinking, and the eating of all sorts of food, with people travelling from house to house, dining, dancing and visiting. While visiting house-to-house, everybody would shake hands and kiss. As a result, some Métis called New Year's Day "Ochetookeskaw" (kissing day) or "Shakishchenoisi" (shaking hands day).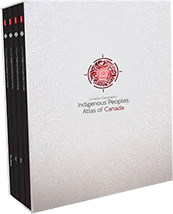 Order now
from Amazon.ca or Chapters.Indigo.ca or contact your favourite bookseller or educational wholesaler