Visual Arts
Inuit culture is one that is rich in art and craft. Traditions and techniques from the different arts come together, and continue to be passed down from generation to generation. Inuit visual arts cover a wide range of media, the most popular being carvings, prints and textiles. Inuit art could be divided through traditional and contemporary imagery, with traditional artwork depicting the animals and landscapes around the North, or the everyday life that surrounds Inuit — seal hunting, family activities or figures from legends and stories. Contemporary Inuit art often uses a mix of traditional media and imagery with new technologies, such as digital photography, film and video, to create an entirely unique identity.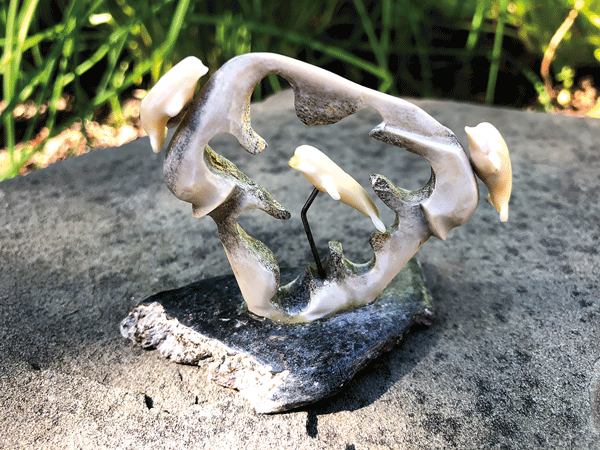 Prints and Printmaking
The 1950s saw the beginnings of one of the most prolific printmaking studios throughout the Inuit Nunangat: the Kinngait Studios in Cape Dorset. This studio was where artists like Kenojuak Ashevak, Kananginak Pootoogook and Shuvinai Ashoona produced some of the most iconic imagery of Inuit art. In the years following the Kinngait Studios conception, other printmaking studios and workshops throughout Nunavik and Northwest Territories were created, although Inuit in Labrador were excluded as they had joined Canada only in 1949 along with Newfoundland.
Stylistically, the prints vary from region to region. The Kinngait prints often depict the many different animals — owls, caribou, seals, polar bears, whales, arctic char — in bold and contrasting colours (Ashevak's The Enchanted Owl provides a good example). Prints from the Puvirnituq region tend to be monochromatic in colour, and reflect more of the everyday life. Stories and legends also make up a large portion of these prints (Davidialuk Alasua Ammitu's Legend of Toongak).
Printmaking throughout the North has changed very little in the way of technique. Inuit artists, however, are showcasing the impacts that modern technologies and urban ways of life have on the North through drawings and prints. Tim Pitsiulak's Family of Eight presents us with a family riding an ATV rather than the dogsleds of the past.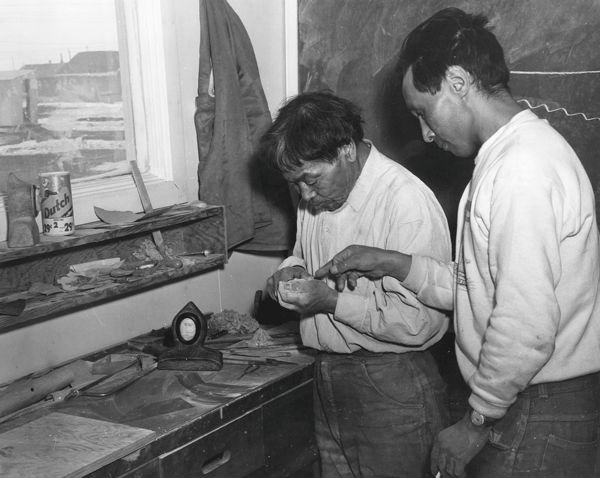 Carving
Given that carving was one of the earliest means of artistic expression, Inuit carvers have fine-tuned their craftsmanship and have expanded their use of tools to create multi-layered masterpieces. In the days before European contact, many Inuit would carve using handmade tools. Over time, power tools became the tools of the trade, and would be especially useful when creating large-scale sculptures.
Many carvers can be found working with such materials as caribou antler, walrus tusk (ivory), muskox horn, whalebone, baleen and different types of stone. Traditionally, carvers worked with serpentine or soapstone, creating many small- to medium-scale pieces. As with the prints, carvings would depict the animals being hunted, figures of family members or mystical creatures from legends. Contemporary artists, like Jamasie Pitseolak, blend traditional carving techniques into a contemporary vision, as seen with his Sedna Chopper.
With the introduction of printmaking during the 1950s, artists experimented with the stonecut process: an image would be initially drawn, traced onto a smooth stone slab, carved out (while leaving the areas to be printed raised), then inked and transferred onto a fine sheet of paper. Over the years, artists would experiment with other woodcut or linocut prints.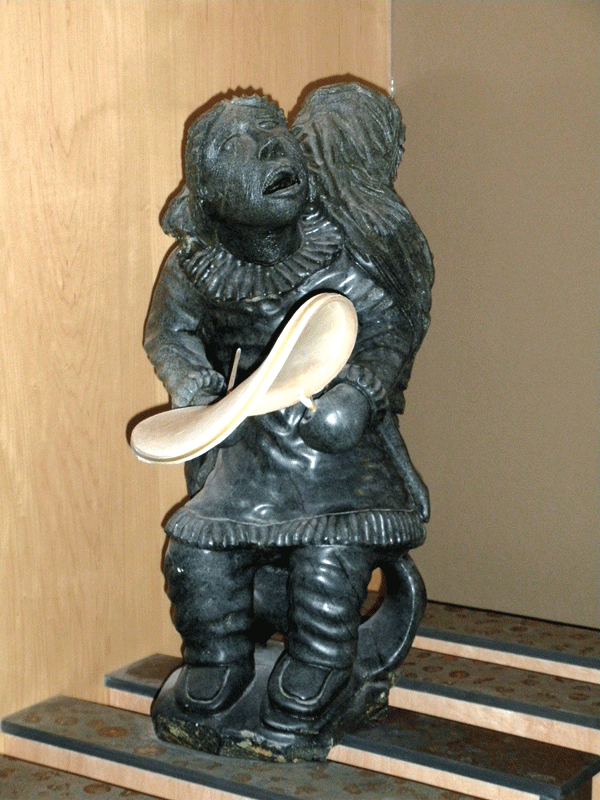 Textiles and More
Inuit visual arts do not stop at carving or printmaking — many artists have "carved out" their careers through creating tapestries, basket weaving and fashion. One of the most prominent artists in this field is Jessie Oonark, who has inspired other artists to work with felt to create large-scale tapestries. Her work, which follows the traditional Inuit print style, uses felt to reflect day-to-day life and Inuit ways of living. The Uqqurmiut Centre for Arts & Crafts in Pangnirtung is one of the main centres for producing tapestries — tapestries that record Inuit Oral Traditions of old.
Contemporary textile Inuit art is often a mix of media with a focus on fashion — intricate beadwork paired with skins to make decorative amauti, or sealskin high heels (or, in the case of Nala Peter, sealskin lingerie). The work of jewellery maker Mathew Nuqingaq is often seen as art that can be worn, like his contemporary take on the traditional "iggaak" or snow goggles.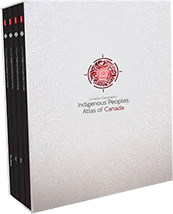 Order now
from Amazon.ca or Chapters.Indigo.ca or contact your favourite bookseller or educational wholesaler